IPD (In-Patient) is an integrated module that covers various task like Patient Indoor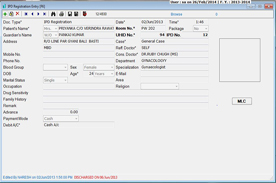 Registration, Admission, Bed Allocation,
IPD Billing
, Case History Management, Patient Care, Ward management, Nursing Station Management, Bed Occupation Matrix. It is best suitable for small Nursing Home, mid-level Hospital, Large Hospital or Super Specialty Hospital.
IPD Management Software is a module of hospital management system - Aarogya and takes care of admission, discharge, billing, charges and the transfer process of a patient. It captures the diagnostic tests, medicines and procedures prescribed by the doctors and nurses.