OPD Management software module Aarogya can take care of many complex OPD (outpatient department) operations. A perfect software for hospital OPD covering multi-specialty clinic and OPD operation, Aarogya covers complete cycle from Registration, Patient History, Patient Case File, Doctor Appointment along with Prescription writing software.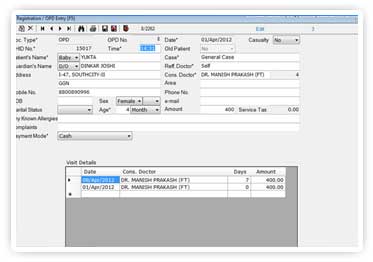 It not only offers simple user interface for people to easily work with, but also makes it easy to get report to, as is provided with host of report modules such as Case wise registration report, Consultant wise registration report, etc. Be it medical billing, medical scheduling, financial report generation, etc. Aarogya does fairly well in satiating the need of OPDs of contemporary world.
The system covers Health Insurance and TPA tracking along with ICDX codes. The system is capable of scanning and storing Patient Records like X-Ray, Ultra Sound, Pathology and other diagnostic reports etc.
Out Patient Department Module can cater multi-specialty clinic, OPD Billing.